Chikalicious!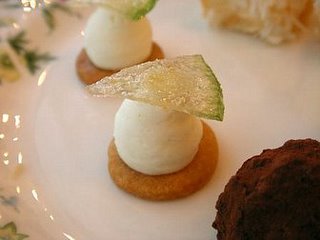 My friend Ada and I also went to a dessert bar last Friday. It's called
Chikalicious
, but chicken is not on the menu. Apparently, it's a name made with the chef's name (Chika) and the word delicious. For $12, you are served an amuse (like an dessert appetizer), the actual dessert (which you get to pick), and some petit fours. Our amuse was honey parfait in a pear soup. This was good, since I really love pear. But the other table got the same parfait with cranberry soup. I thought it would be better with cranberry since the tartness would cut into the honey sweetness. My dessert was almond cake, toasted almond ice cream, and apricots cooked in amaretto. I guess I have been using almond extract for too long. I had forgotten the real almond essence is derived from the variety of bitter almonds, which really has a discernable taste from just almond extract. Ada had a molten chocolate tart served with pink peppercorn ice cream. Mmmmm, so good!!! And in the picture we were served the petit fours -- coconut coated marshmellow in the background, truffles made with some liqueuor aged for 8 years; and this cuter than cute little thing decorated with a piece of candied lime piece.
The place was tiny, with ~8-10 bar stools and 3 tables. Sitting at the bar would give you a nice view of the crew working. We were lucky that we went at ~3, because after I came back and did some internet search, I found this place to be extremely popular and often with long lines at night. I guess rent would be too expensive for a bigger place, and their insistence on quality must also be a factor too. Ada and I both thought it's a more refined version of finale.
Chikalicious
-- it's delicious and pleasing to the eye!
203 East 10th Street, New York, NY 10003
212-995-9511